As Black History Month is upon us, and the Olympics are on deck, I turned to my old pal, Google* to spit out a bunch of American Olympic trailblazers worthy of some notoriety:
1. Alice Coachmen was the first black WOman selected to the US Olympic Team AND the first black woman to win an Olympic Gold Medal at the 1948 Summer Olympic Games in the high jump competition.  Whaaaaaaa? It was conveniently a leap year that year, so [insert dad joke here].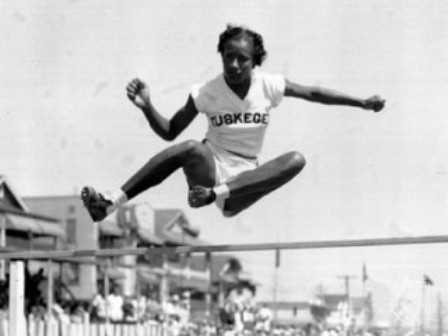 2. Debi Thomas was the first black athlete to win any bling at any Winter Olympics (bronze in 1988 in Calgary). She was also the first and only African American Figure skating champion in the US.  After skating, she went on to medical school, became an orthopedic surgeon (NBD), and then became a mo fo humanitarian.
 3. Vonetta Flowers was the first African-American Winter Olympic gold medal winner!!!  After failing to secure a spot on the U.S. Olympic team twice (1996: 100m dash and long jump, 2000: long jump), she retired from track and field and turned to bobsledding.  After just two weeks of training in pushing a sled, Flowers and teammate Bonny Warner set a world start record in October 2000 at Park City, Utah. I bet she get at least an 7-hill-PR on her first day at NPSD. Other victories quickly followed, including a gold-medal performance at the World Cup. In 2002, she became the first black athlete to win gold at the Winter Olympics in Sal Tlay Ka Siti, and after having 3 kids, she returned to the 2006 Winter Games in Torino with the U.S. bobsled team and finished sixth overall. V strong mama.
4. Dr. LeRoy T. Walker was the first black president of the United States Olympic Committee in 1996 in the ATL. He was also the first African-American to coach a US team.  Oh, and he casually earned his Ph.D in biomechanics at NYU and gave up his six figure salary position as the director of sports for the Atlanta Committe for the Olympic Games to take the unpaid, el presidente role. Ahhh the days of higher education preceding a presidential office.
5. Michael Johnson is the only athlete in HIS-TO-RY to win the 200m and 400m at the same [1996 Atlanta Summer] Olympics, aaaaaand get this: he's also the only male to successfully defend his Olympic title in the 400m the following Summer Games in Sydney.  Take that, Usain!
6. Florence Griffith Joyner also known as "Flo Jo" was the fastest woman alive. She has records in the 100 and 200 meters that STILL haven't been broken in 30 f-ing years! Her women's world record of 10.49 seconds in the 100m and 21.34 seconds in the 200m set in 1988 remain unbroken.  Some of us have lived our entire lives and done like 6 school projects on her in that time, and she's held on to that speed-studded crown the whole GD time. She also gave zero fucks about what people said about her flashy leggings, long nails, and #longhairdontcare 'tude.
Well, I don't have a gold medal for you, but I'll give you a metaphorical gold star for making it this far. Strong work today, tribe.  Whether or not you are an Olympic athlete, you showed up in whatever form you were in today, and that f-ing matters. Don't quit your day jobs, though, because none of you are cut out for bobsledding.
*Not as entertaining as our resident historian, Antonette, but it'll do.
---
Announcements:
MONDAY – hilly 5k + tagging. Bring ONE item to get tagged for #grassrootsgear. Check the tracker for location.
Share via socials: